Call centers have been serving businesses for ages now. Call center practices must be evaluated from today's perspective. 93% of agents have stated that today's customers have higher expectations than ever before. With the growing pressure on call centers, businesses are focusing on call center performance improvement. It has become imperative to follow call center tips that pinpoint the flawed call center practices and fix them before it's too late.
Looking for call center operation improvement ideas? Here are a few busy call center tips that can help you. This blog focuses on the cliches most call centers are still following and suggests a solution to fix them.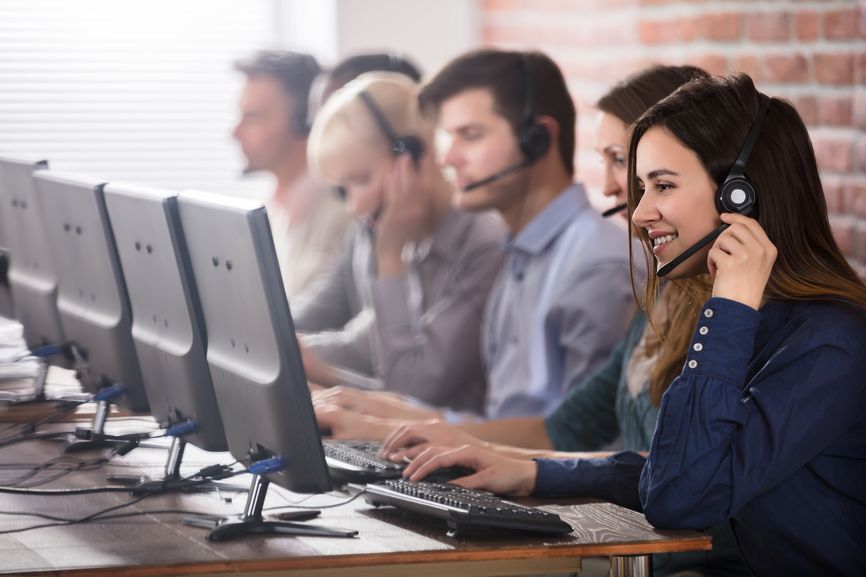 #1
Shuffling a caller around
When a customer calls and the call is transferred from one agent to other, it leads to customer frustration. Moreover, it creates an impression that the business is not adequately equipped to resolve customer problems.
The most suitable call center tip to overcome this challenge is to opt for skill-based routing. When the customer is connected to the right agent, it enables quicker resolution and a positive customer experience. It also saves a waste of time for the agents as well as customers. Therefore, implementing a skill-based routing strategy is one of the best process improvement ideas for a call center.
# 2
Long calling queues
Customers are busy and it is unreasonable to expect them to wait for 10 or 20 minutes for connecting to an agent. Shortening call queues or making the waiting time pleasant and fruitful for the customer can dramatically lead to call center performance improvement.
This existing challenge can be sorted by using an auto-attendant or Interactive Voice Response (IVR). An IVR can greet the customer or analyze the customer query to direct the call to the right agent. Moreover, automatic call distribution (ACD) serves as an effective way to prevent long calling queues. These are some of the best call center tips to avoid the never-ending queues for your customers.
#3
Request customer to visit website
The suggestion to check the business website can backfire on the customer experience dramatically. An agent must assume that the caller has already checked the website. The customer called as a consequence of not finding a solution. Therefore, if an agent asks the customer to visit the website, it is extremely annoying to the customer.
When looking for call center operations improvement ideas, it's best to start looking into the agent scripts. If the agent script has a website visit request, make sure to remove it immediately. Moreover, look thoroughly into the agent script to identify and remove problematic phrases such as "No problem", "sorry, we don't deal with it" etc. One of the most effective call center tips is to recheck the agent scripts for ensuring wrong phrases don't disappoint your customers.
#4 Lack of proper KPIs
Evaluating your customer service can be difficult if the business does not have proper key performance indicators ( KPIs). Call center performance improvement is only possible if the business knows the areas of improvement. Moreover, KPIs are essential to detect the training needs of your agents.
KPIs like First call resolution (FCR) rate, average handling time, and abandonment rates provide insights on agent performance as well as customer satisfaction. It is important to monitor these KPIs to improve call center performance. Re-evaluating KPIs from time to time is the most effective call center improvement idea to boost productivity.
#5 Not Using Automation With Customers
One of the most common cliches in a call center is not using automation with customers. This can be a very frustrating experience for customers, as they may feel like they are being treated like a number instead of a human being. Automation can help to take some of the pressure off of call center agents and allow them to provide a better customer experience. By automating some of the more routine tasks, such as customer information lookup and account balances, call center agents can focus on providing a better customer experience.
One of the best call center tips is integrating your CRM software. It equips the agent with essential customer information such as history and previous conversations enabling quicker resolution.
#6 Absence of Omnichannel support
If a call center lacks omnichannel support in the current business landscape, it is losing significant revenue. In the absence of integrated communication, the customer needs to repeat their issue again and again while switching communication channels. This leads to growing customer frustration. Moreover, it puts a big question on your call center efficiency. 49% of customers usually communicate through 3 to 5 channels to contact a business. Therefore, a lack of omnichannel support can jeopardize the customer service experience.
Unifying multiple communication channels not only enhances your customer service but also enables your agents to serve the customers better. Therefore, implementing omnichannel support is one of the best busy call center tips that effectively leads to call center performance improvement.
#7 Not analyzing data
Business all across the globe is realizing the data, call centers are no exception. Without this crucial step, your call center is likely to become stagnant. Additionally, you'll never really know how your team is performing and where there is room for improvement.
Call analytics serves as a powerful tool to actively listen to your customer demands. It also helps your business to identify frequently used words or phrases as keywords. These keywords can be used to enhance the FAQs making it easier for customers to find answers. By analyzing data, call center managers can identify patterns and trends to probe into effective call center operations improvement ideas.
The Bottom Line
There are a lot of things to avoid in call centers, but these seven cliches are some of the most common and most damaging. By avoiding them, you can make a big difference in the quality of your calls and the satisfaction of your customers. While it can be difficult to avoid them altogether, we hope that our call center tips have helped you become more aware of the cliches commonly used in call centers and how to fix them. With a little effort, you can make sure that your calls are free of these mistakes. For professional guidance on call center performance improvement, you may always look up to HoduSoft's comprehensive product suite.