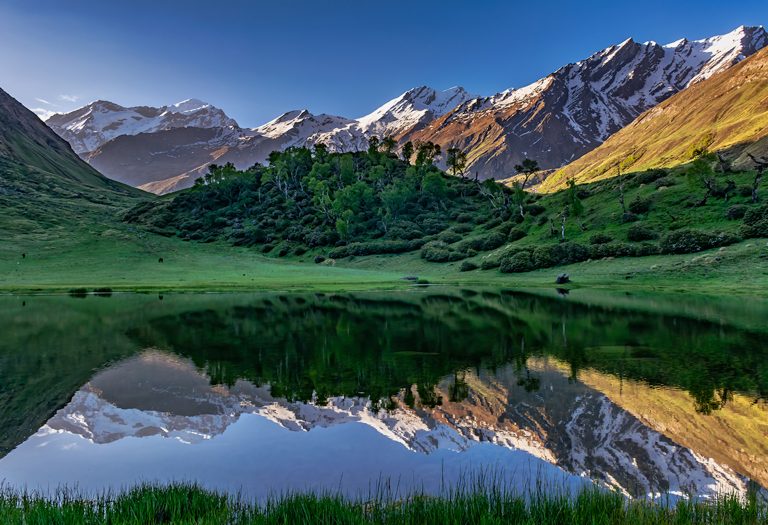 OVERVIEW
Ruinsara tal trek lies among the best Treks in Uttarakhand and it comes under the Govind wildlife sanctuary national park.
Ruinsara trek starts from Sankri village and passes through admiring exquisite beauty and thick oak and pine forest.this route goes through glacier ranges, wildflowers,and different varieties of flora and fauna. This trek will amaze you with the majestic sight of snow-capped mountains and offers an enchanting view of a beautiful valley.
Ruinsara tal trek is one of best choice for those trekkers, who are looking for adventure trek in Uttarakhand.
WHERE IS RUINSARA
Ruinsara tal trek is best complete trek with har ki dun trek. Har ki dun is a cradle- shaped vale in the garhwal region of Himalayas which connects the Baspa pass and this vale is nested at an altitude of 3500m. Har ki dun- Ruintara is one of oldest trek routes in himalayas which starts from Sankri.  If you do Ruintara trek with har ki dun  you will feel as if you have got something free. 
Ruintara trek gives new enthusiasts to you when you have to go to a new route from har ki dun to Ruintara and it will be a unique experience for you.
BEST TIME TO VISIT
The best time to travel to Ruinsara is summer's days  and post monsoon months between September and october. Starting in the spring month of march you can trek in Ruinsara until late June. the heavy snow laden trails in winters makes it impossible to trek for rest of the winters until later in spring season 
HOW TO REACH RUINSARA
Reaching to ruinsara is easily accessible as there are many options to reach there. There are three easy ways to reach Ruinsara har ki dun. You have to see how you want to go.whether by train, bus or train. If you choose to go by flight, there is direct flight delhi ncr are available where you have to reach at Dehradun after that you need to reach at sankri base camp. The Dehradun airport is 27 km  in distance from the main city. The nearest railway station is Dehradun railway station and you will get a bus directly from Delhi to Dehradun.
COMPLETE GUIDE-RUINSARA TREK
DAY-1- Delhi to Dehradun
On the first day of the tour trip you will reach Dehradun if you are coming from Delhi. After reaching Dehradun, you have to take a bus or taxi to Mussoorie where you will stay in Hotel overnight.
DAY-2 On this day you will need to reach Taluka village which is girdled by beautiful geography. Taluka is a straight point of Ruinsara journey where you need to stay in a camp or tent.
On this day you will embark to osla and this trail goes through pleasing timbers of willow and walnut. You need to walk a gradational ascent which will bring you to Osla village. This scenic village is located in a fast-flowing runlet.
DAY-3 on this day your journey will go straight towards Har ki dun. This untouched beautiful train goes through remote townlets and fields of rice and sap. This beautiful place is untouched by commercialism and untramordern life where the people still wear their traditional dresses and follow the traditional values and culture. These fascinating meadows are covered with flowers which will amaze you with its beauty. By the end of day you will reach at har ki dun. you regale in the night in Camps and canopies.
DAY-4– following the breakfast you will start your journey towards Debshu Bugyal. After reaching Debshu this journey goes towards Ruinsara tal. This journey from Har ki dun to Ruinsara is truly graphic.
You will pass through mountain fields and lush green ranges. This moderate difficulty journey will be completed in 5-6 hours. You will stay in camps near the lake.
DAY-5 RUINSARA TAL
In the morning after having breakfast you will stay for adaptation and discover. Don't forget to capture nature at its stylish. On the lakeside you can lay to fully enjoy nature full of peace and magic. After the regale and  night stay you may go back to osla which is 18 km down. And then back to your place.
THINGS TO REMEMBER
Wherever you go for any trek it's very important to go with complete safety. So don't forget to carry medical kit with you
Ruinsara Tal trek is moderate in difficulty but makes your feet and mind calm and strong so that you will reach the destination easily.
If you feel not well or have any problems then you can go back to basecamp by laying on a stretcher.